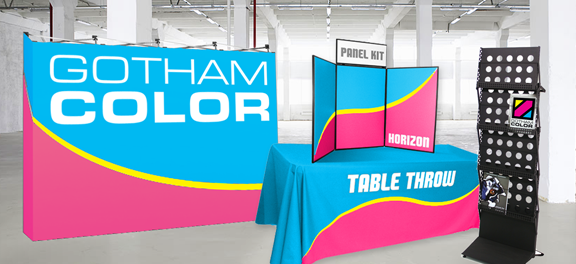 As most professionals know, it is of paramount importance to ensure that the first impression one makes should be the best (and lasting) one. This is especially true at conventions and trade shows, where your branded appearance in a sea of logos is the ONLY thing separating you from the competition.
But nowhere is it written that in order to stand apart from the crowd, a business owner must spend an enormous amount of money to make it happen. At least we don't think so.
At Gotham Color, we can provide you with all of your portable trade show needs, from retractable banner stands and hop-ups to literature racks, backlit duratrans and table-top signage. Our display booths are lightweight and portable, and are very easy to assemble. We have a variety of sizes and shapes to choose from, and if you don't find one that you like, we can provide you with custom solutions.
In the sea of logos, let Gotham Color turn your booth into a beacon of success!