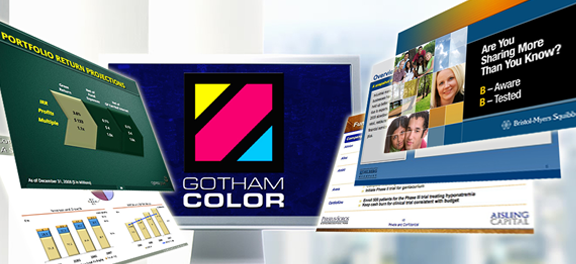 While it may indeed be true that "a picture is worth a thousand words," business presentations require more than nice pictures and colors to convey a specific message to a target audience. They need content, and the time to develop it. And if you're the one responsible for the million other logistical details involved in planning your next meeting, the last thing you need to be bothered with is aligning bullet points, creating compelling graphics and appropriate animations.
Let Gotham Color's PowerPoint Gurus paint the pictures for your presentation!
From template creation and image sourcing to text insertion and editing, our PowerPoint experts can handle all of the design heavy lifting while you focus on the message and planning for your meeting. Our gurus are also available for on-site technical support, including A/V set-up and troubleshooting to handle any last minute changes or technical issues.
And, upon the successful completion of another meeting or conference, the only picture that Gotham Color is interested in is the smile of another satisfied client.